Good morning and welcome to another Sunday, another one which has come round way, way, too quick for my liking. I really love my weekends and they just are never long enough. This one has come at the end of really nice week though so I shouldn't complain too much I suppose. Lots of sunny days and trips to the park after school. Lovely.
Book wise, I got two reviews posted…
A Mother's Story by Amanda Prowse, which I wish I'd read rather than listened too because, even though I enjoyed it, I was put off by the narration and Freedom's Child by Jax Miller which I loved because it was a wild ride of a read and Freedom a different type of character from others I've been reading.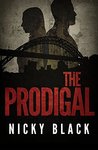 I also finished two books, Blood Sisters by Graham Masterson and The Prodigal by Nicky Black (links to Goodreads) and started a third, Still Waters by Viveca Sten. I should get this finished this week plus The Lady in the Tower by Alison Weir, which I've been listening to.  
One thing I didn't do was add any books to the reading piles. Mind you, this might be a good thing as I'm developing a backlog of books. All in all, then, it feels like it's been a good reading week. How has yours been? Read any good books?
Emma
This week, I'm linking in with Kimba at the Caffeinated Book Reviewer and her Sunday Post. Head over to see what other bloggers have read, written about or just added to their shelves.